PanelDuct® 37° Transition
PanelDuct® transition pieces are of eccentric design and come in two angles: shallow (14°) and sharp (37.5°).
The 37° Transition offers an agressive reduction in cross sectional area. Reduce the height by 50mm for a transition length of 130mm. This taper can be further reduced by increments of 50mm, up to a max. of 1000mm. At 37°, the length of a 1000mm reduction will be 1300mm.
All transition panels are supplied with integrated aluminium flanges on either end.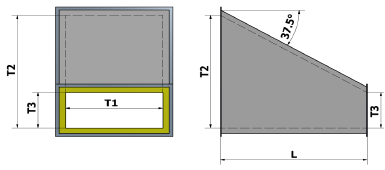 Available in the following size combinations:
| | | |
| --- | --- | --- |
| Width (T1) | Height In (T2) | Height Out (T3) |