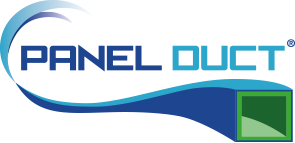 PanelDuct® is pre-insulated flat pack ducting and is a straight substitute for traditional insulated ventilation ducting. 
"It provides a solution to an unmet need in ventilation systems."
Traditional galvanised metal ducting is generally quite bulky, costs a lot to deliver and requires significant storage space onsite. A flat pack duct system, which clicks together onsite, eliminates these cost and volume issues.
PanelDuct® is the result of many years of internal development within a leading Irish Mechanical and Electrical building services company. This experience in ventilation ducting manufacture & installation provided the stimulus behind the development of a ducting system that is not only better value for money, but also exceeds the performance of traditional ducting in every way.
See Benefits
PanelDuct® strives to represent the very best in quality and to deliver industry beating performance.
This is reflected in the levels of standards compliance and test certification achieved by the PanelDuct® system. 
Once the system is established as the de facto standard in high performance ducting systems, it will be rolled out to worldwide production and sales.
See our Certification
PanelDuct® Engineering is composed of a world class team of industrial design experts in ventilation systems tasked to deliver unparalleled ductwork solutions based on innovation and engineering excellence.
The success of the PanelDuct® system is attributed to unrivalled levels of workmanship quality, streamlined manufacturing processes and unsurpassed levels of customer care and retention.
PanelDuct® is manufactured on bespoke equipment, a specific combination of industrial equipment and custom tooling that does not exist anywhere else in the world. Production of panels is continuous, meaning that the panels are available off-the-shelf for immediate order and next day delivery.
View Product Range